---
"GOD made you a masterpiece, stop living your life trying to be a
copy of someone else.No one can be you better than you."
– DeLores Pressley
Are you running from your call to the ministry?
Are you a woman who knows there is so much more to your life than what you are currently doing?
Are you struggling to find true life transformation?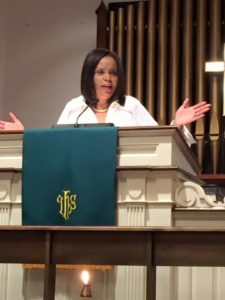 DeLores Pressley can help you elevate your faith to discover new heights of success. She has a ministry that is about doing God's work to empower and help Women of Faith find their life purpose in business and ministry. DeLores ran from her calling as a Minister. She is a keynote speaker for corporations and associations, but felt afraid of losing her corporate clients, yet she knew that there was more to her life. She is walking fully into the ministry encouraging women to become all that God has created them to be. She now speaks for corporations, businesses, associations and churches.
Be marvelous! Discover your mission and make a difference in this world!
She Elevates Not for Profit
She Elevates, is organized exclusively for charitable, scientific and educational purposes, more specifically to provide young girls with mentorship and educational information on business ownership. The primary vision of the organization is the provide more exposure to young girls that will increase their beliefs, understanding and knowledge base to become powerful women entrepreneurs.
These young ladies will be mentored by women who are currently business owners, community leaders, and women of great influence. These leaders will open up their offices and business locations to facilitate effective shadowing days, events, outings, and special occasion visits as needed. The purpose of shadowing will allow young girls access to actually see entrepreneurs running a business and what happens in their offices or field of business on a day-to-day basis. They will learn the realities of how their tasks and responsibilities are carried out with the spirit of excellence, enjoyment and purpose in their chosen field of business.
If you are interested in being a donor or volunteering for She Elevates, email assist@delorespressley.